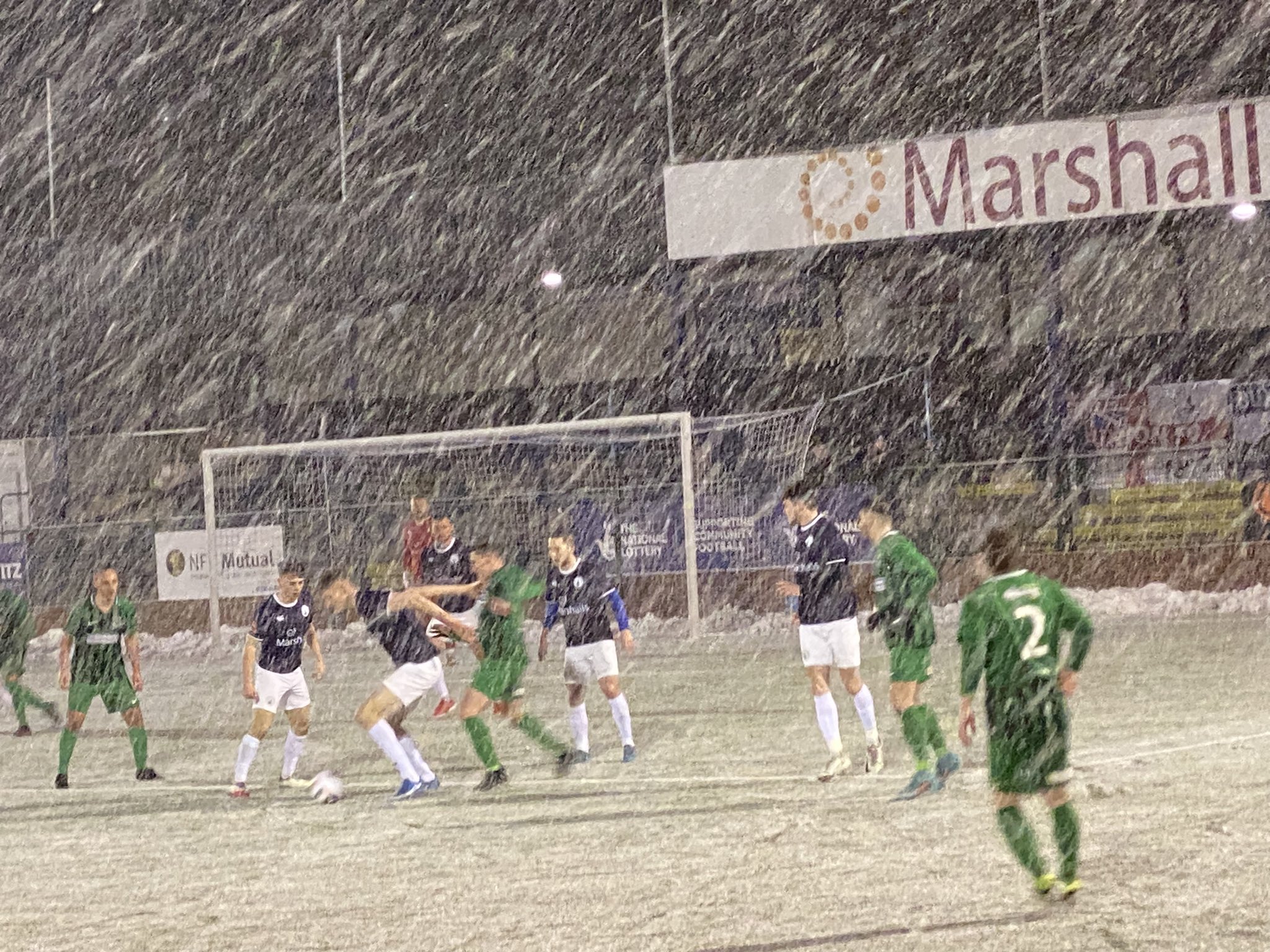 Buxton overcome Belper United to reach the Cawarden Derbyshire Senior Cup final
Buxton 3-2 Belper United
Buxton booked their trip to Pride Park for the Cawarden Derbyshire Senior Challenge Cup final, with a thrilling 3-2 victory against underdogs Belper United.
Buxton are a National League North side on a hot unbeaten streak. Their opponents in the DSC semi-final were Belper United, a side that play in the United Counties League and that have reached the semi-final stage of this cup for the first time in their history this season. The Bucks were realistically big favourites going into this game, but Belper United have been on fire in the competition and have already knocked out giants on their way to the final, including a 3-0 win against Chesterfield and their hard-fought victory against Gresley Rovers in the previous round.
On a cold, snowy night at the Silverlands, Belper were the first to break the deadlock after 10 minutes, when a fierce strike from Richard Hanslow was parried out but only as far Eric Graves, who made sure with the rebound.
The Bucks were shellshocked by the Greens fast start, but soon counteracted with their own chances. A long-range rocket from Sam Osborne flew narrowly wide of the post after 17 minutes.
Buxton found their equaliser after 30 minutes, when in-form Diego De Girolamo found space and thundered home to make it 1-1. Just minutes later Belper nearly retook the lead through Hanslow, a great save from Morgan Bacon keeping the score level. Hanslow went close again on 40 minutes, narrowly missing the target from the edge of the box.
The sides went in at half-time at 1-1, and with it all to play for in the second half.
Just two minutes into the second half, Belper United were given a chance to retake their lead after being given a penalty. Hanslow fired in and the underdogs led 1-2.
57 minutes in Buxton scored to equalise, this time through a composed Sam Osborne finish, after a mix-up in Belper's defence allowed him through on goal.
Buxton took the lead for the first time in the game after 68 minutes, when De Girolamo scored an absolute wonder strike from outside the box.
The Bucks held onto their lead for the remainder of the game and won 3-2, progressing to the final of the Derbyshire Senior Challenge Cup.
Commiserations to Belper United, who have been an absolute joy in the competition this season, going all the way from Round One to the Semi-Final, and only narrowly missing out on the final.
A trip to Pride Park awaits Buxton for the final of the Derbyshire Senior Challenge Cup, where they will face Derby County Academy, who defeated Belper Town 3-2 in the other Semi-Final.
Buxton vs Derby County Academy will take place on Wednesday 19th April 2023 at Pride Park Stadium, KO 19:45.